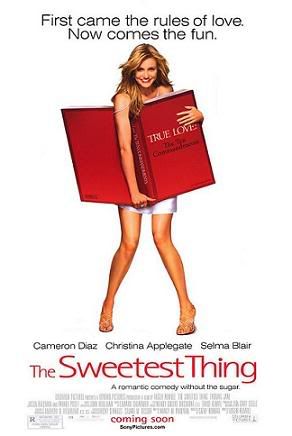 The Sweetest Thing (2002) is a romantic comedy starring Cameron Diaz, Christina Applegate and Selma Blair. It's about Christina (Diaz) who has some problems with commitments, but definitely no problems picking up guys.
This is an old flick and I guess most of you have probably seen it, but for those of you who haven't, I highly recommend it! Despite the fact that this movie didn't "bring it in" (it's a financial flop), I really like it a lot. It has your above average dose of comedy, I can't even remember the number of times I laughed. There's just too many scenes that made me laugh uncontrollably. Okay, that's an overstatement, but still, it's really really funny. The Chinese/Japanese(?) resto scene, the male restroom scene, the car scene, I might as well write here all of the scenes. And it's not too heavy on the drama part. It's a perfect feel-good movie.
I will also list here the OST of the movie, since I'm obsessed with music used in movies, TV shows, etc.
The Sweetest Thing OST:
1. Macy Gray - Sexual Revolution
2. The Association - Cherish
3. Chris Bentley - It's Done Been One
4. Jamiroquai - Little L
5. Jossette - I'm Walking
6. Chelsi - Dom Da Da
7. Louchie Lou & Michie One - Hot Stuff
8. Electric Light Orchestra - State of Mind
9. Ben Folds - Losing Lisa
10. The Getaway People - There She Goes
11. Los Straitjackets - Country Squier
12. Rupert Holmes - Escape (The Pina Colada Song)
13. Smash Mouth - Pacific Coast Party
14. David Mead - Girl On the Roof
15. Peaches and Herb - Shake Your Groove Thing
16. Bangles - Eternal Flame
17. Frankie Goes To Hollywood - Relax
18. Diane Warren - I Don't Want To Miss A Thing
19. Diane Warren - How Do I Live
20. Pete Yorn - Strange Condition
21. Geri and Ramin - Give Up
22. Usher - U Got It Bad
23. Sugar Ray - When It's Over
24. The Penis Song
I'm not sure if this is THE original soundtrack, I just copied it off the internet.
There ya go. Hope you enjoy this movie as much as I did.